Houston Residential landscaping Service
Houston Residential Landscaping Services
Grounds Care Services for Homeowners
Owning a house in Houston with a big lawn is no easy task to take on by yourself. With the extreme weather, it can be hard to maintain the yard of your dreams. A lush, beautiful lawn with precise edging and floral detailing does more than improve the curb appeal and increase the value of your home – it creates a space you and your family are happy to return to every day. An intelligently designed residential landscape can also reduce cooling costs with shade from trees, reduce runoff and erosion, reduce noise pollution and even reduce water bills with the right plants for the right climate.
With our highly qualified staff, Southwest Property Landscaping can help you create the residential landscape of your dreams – whether you simply need some design ideas, ongoing maintenance or full installation services.
Satisfaction Gauranteed
Starting with design and ending with a beautifully landscaped property, our staff can expertly handle every phase of the project. We can provide beautifully colored plans from our Landscape Architect, or a sketched drawing, depending on the wants and needs of our customers. We then can produce an itemized proposal showing plants to be used, quantities of each and individual costs for the entire project. We accomplish this without losing sight of our customer's budget requirements.
Whether it takes one day or several weeks, the installation of your project will be done efficiently and with as little disruption to you and your neighbors as possible. Our crews are neat, courteous and very experienced. Our plants come from very reputable growers, and are of the highest quality. We take no shortcuts in providing our customers with the best available for all aspects of their project. We do not consider our installation complete until our customer is completely satisfied and overjoyed with their beautiful, new environment.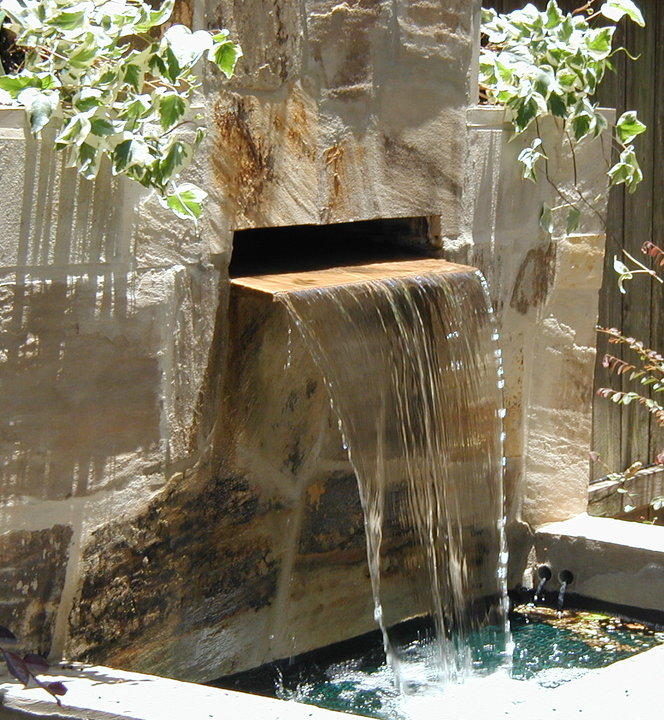 Ponds, Waterfalls & Fountains
We are Houston's premier experts in the design and implementation of beautiful and unique waterscapes including ponds, waterfalls, streams and fountains! Let our design staff design a a waterscape for your residence or commercial property using a mulltitude of construction mediums and creative sub-surface, hidden and spot lighting. A Fish pond with outdoor lighting for example is very easy to maintain and adds a peaceful serenity to your landscape enviromet during the evening or day time hours!
Hardscapes
At Southwest Property Landscaping your commercial or residential landscape project can be enhanced by a variety of beautiful hardscapes. Our Landscape Designers can employ a variety of mediums including the installation of concrete or pavestone pavers, flagstone, brick, stone rock or gravel. Our hardscape installations include walls, walks, patios, entranceways, stairs, driveways and intricate retaining walls that will enhance the value and beauty of your commercial property or home. Our creative hardscape designs will become a beautiful and lasting part of your outdoors enviroment!
Landscaping Gallery
Some of our Landscaping Work